Introduction to Deep Learning in Python
Learn the fundamentals of neural networks and how to build deep learning models using Keras 2.0 in Python.
Start Course for Free
4 Hours
17 Videos
50 Exercises
Loved by learners at thousands of companies
---
Course Description
Discover Deep Learning Applications
Deep learning is the machine learning technique behind the most exciting capabilities in robotics, natural language processing, image recognition, and artificial intelligence. In this 4-hour course, you'll gain hands-on practical knowledge of how to apply your Python skills to deep learning with the Keras 2.0 library.


Explore Keras Models with a Library Contributor
Taught by ex-Google data scientist and Keras contributor, Dan Becker, this deep learning course explores neural network models and how you can generate predictions with them. The first chapters will grow your understanding of both forward and backward propagation and how they work in practice.

Keras library is a Python library that can help you develop and review deep learning models. Like many Python libraries, it's free, open-source and very user friendly. You'll start by creating a Keras model and will learn how to compile, fit, and classify it before making predictions. Once you've completed this course, you'll have all the tools you need to build deep neural networks and start experimenting with wider and deeper networks over time.


Delve Further into Deep Learning
This course is part of several machine learning and deep learning tracks, offering you clear pathways to build your skills and experience in this area once you've completed the introductory course, whether you want to complete a personal project or move towards a career as a Machine Learning Scientist.
Basics of deep learning and neural networks

Free

In this chapter, you'll become familiar with the fundamental concepts and terminology used in deep learning, and understand why deep learning techniques are so powerful today. You'll build simple neural networks and generate predictions with them.

Optimizing a neural network with backward propagation

Learn how to optimize the predictions generated by your neural networks. You'll use a method called backward propagation, which is one of the most important techniques in deep learning. Understanding how it works will give you a strong foundation to build on in the second half of the course.

Building deep learning models with keras

In this chapter, you'll use the Keras library to build deep learning models for both regression and classification. You'll learn about the Specify-Compile-Fit workflow that you can use to make predictions, and by the end of the chapter, you'll have all the tools necessary to build deep neural networks.

Learn how to optimize your deep learning models in Keras. Start by learning how to validate your models, then understand the concept of model capacity, and finally, experiment with wider and deeper networks.
Collaborators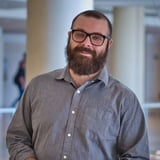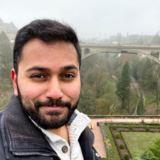 Dan Becker
Data Scientist and contributor to Keras and TensorFlow libraries
Dan Becker is a data scientist with years of deep learning experience. He has contributed to the Keras and TensorFlow libraries, finishing 2nd (out of 1353 teams) in the $3million Heritage Health Prize competition, and supervised consulting projects for 6 companies in the Fortunate 100. He previously worked as a data scientist at Google. Now he is the CEO and co-founder of Decision.ai, which helps companies apply their machine learning models to make better real-world decisions.
See More
Join over
12 million learners

and start Introduction to Deep Learning in Python today!